Online Stores Madrid
Specialists in creating Internet stores
Design, creation, online store programming and online catalogues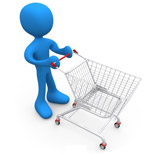 Your online stores in Madrid with Impulso Tecnológico, specialists in virtual store and Internet catalogue design and creation. If you already have a data base of your products, we can do the import work to the new system.  Some benefits of online stores are low investment, offshoring, availability and the impact they can have.
The moment has arrived, if you want to sell a product or service you must create virtual stores.  You must change your mentality
The store system we prefer to use is Prestashop, you can see a store demo. Keep in mind that the aspect and functionality are entirely configurable. We like this system because apart from being open-sourced, it allows us a complete personalization.  It also has a large community of developers and a very extensive implementation in stores worldwide.
Online Store Estimate Madrid – Internet Catalogue Estimate –
Examples of Online Stores Madrid – Internet Catalogue Examples –
Online Stores Madrid: features
Store and Catalogue Service – Virtual, regulated, scalable, and complete personalized
Customer Management
Technical Support and Advice
Category and sub-category control
Safe and Secure Data
Invoice and Delivery Note Control
Secure payment
Stock Control
Integration with Credit Card Payment
(Virtual TPV)
Content Management
Multilanguage and multicurrency
Banner Management
Offers and discount management
Advanced Search Filter
Sale to client and distributor groups
Client Registration
Advanced visit and sale statistics
Newsletter System
Complete and simple product management
Reasons to open online stores in Madrid
Five reasons to start
Reason # 1 to open online stores:
Increased turnover for your business through internet sales. The trend also has a margin of growth.
Reason # 2 to open online stores:
Your competition probably already has one or is developing one.  Now is the ideal time for electronic commerce. Internet sale figures are now interesting and will continue to rise.  It will now cost less money and resources to occupy important positions in your sales sector than what it will cost in a year.   Every passing moment counts.
Reason # 3 to open online stores:
It gives your business prestige and a professional image. Knowing that a real store offers its products online gives a professional image and prestige. It will cost you very little to make use of the connection between an online store and a real one.
Reason # 4 to open online stores:
Low and accessible costs. Starting an internet business is very cheap when compared to the real world. I can tell you from experience, after starting several traditional businesses and realizing that expenses add up quickly.
Reason # 5 to open online stores:
The store or business is open 24 hours a day in the whole world. Without schedule or geographic limits. Your clients can be thousands of kilometers away, on the other side of the world.
Examples of online stores
Businesses in Madrid we have designed and created, that have already been set up
Online stationary and object store, tremendously personalized for children and adults.
Online instrument catalogue for industrial process automation.
Online cosmetic store in Madrid, health, beauty and well-being services