Firewall Installation Service in Madrid. Watchguard Firewall Network Maintenance
Firewall Installation in Madrid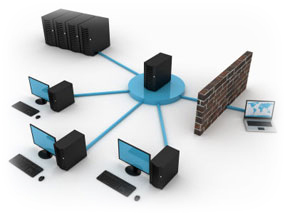 Impulso Tecnológico has staff experienced in installing firewalls in Madrid. We mainly work with Watchguard, due to the versatility of its systems, its stability and its cost. The firewalls or firebreaks control all of the inbound and outbound Internet network traffic from your company.  They automatically block intruders, but they are not as easy to install and to manage as software which can be installed on your computer equipment. If you have not installed a firewall, you should.  Firewalls provide the protection and control necessary to work safely, both inside and outside of your company's network.
What do you achieve by installing a firewall in your company's network?
By installing a Watchguard firewall in your company's network in Madrid, you will have continual network trafficking monitoring.  Traffic which is produced by the network and attempts to access internet is checked to see if it is from a secure network and authorized by the firewall's establish rules.
Watchguard Firewalls are very powerful and scalable to your company's size.  By installing Watchguard Firewall, PCs and ports are hidden to disable port scanning techniques. They identify and block malicious script and Trojan horses. Watchguard Firewall also monitors outbound traffic and registers an alarm when a program tries to access internet without authorization from a local network.  In short, Watchguard Firewalls automatically block and identify dangerous and unwanted internet traffic, allowing different security levels to be established depending on the users, groups, destinations, and themes.
Do you need to install a Watchguard Firewall in your company's network?
Unfortunately, by connecting to Internet your PC becomes an easy target.  Through port analysis programs and other automatic tools, hackers search internet for unprotected PCs.  When they find one, they try to enter illegally. Whether they are searching for your data or just want to spy, it isn't convenient to allow them to. Also, some IT delinquents randomly choose private computers to target, and use them as screens to initiate more serious attacks.  When a hacker uses your computer to attack, you can become a suspect in the committed crime.
Watchguard Firewalls are essential since they prevent these types of attacks, just like antivirus protection. While antivirus software prevent virus, worms and Trojan horses, Watchguard firewalls prevent hackers and other intruders from infiltrating your network, arranging an automatic spam filter system and antivirus for the whole network, allowing secure connection from VPN to your network, enabling secure communication between company branches, etc.
In conclusion, if you are worried about your data security and the stability of your company systems, allow Impulso Tecnológico to assess which Watchguard Firewall installation adapts best to you.
Professional firewall brands we work with:
We distribute, install and maintain

We supply, install and offer maintenance services for Watchguard firewalls in Madrid.
WatchGuard® creates affordable, all-in-on network and content security solutions to provide defense in depth for corporate content, network and businesses they power. The Watchguard XTMs combine firebreaks, VPNs, and security services which protect against spam, viruses, malware and intrusions.  The new XCS appliances offer email and web content security, combined with DLP for a complete protection.
Some of the Watchguard firewalls we install in Madrid are:
WatchGuard XTM 10 Series
WatchGuard XTM 8 Series
WatchGuard XTM 5 Series

Firewall Installation in Madrid – Watchguard

WatchGuard XTM 2 Series
Appliances XCS 770, 970 & 1170
Appliances XCS 170, 370 & 570
WatchGuard Firebox X Peak e-Series
WatchGuard Firebox X Core e-Series
WatchGuard Firebox X Edge e-Series
WatchGuard SSL
The range of users served by the Watchguard firewall team is from 50 users to more than 10000. Depending on your needs, we advise you on firewall installation for your company.