Structured network cabling Madrid, structured network cabling
Network assembly, installation and maintenance for companies in Madrid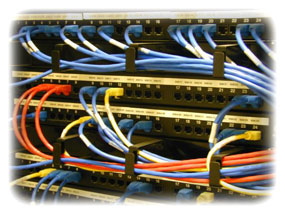 We have been providing voice and data and fiber cabling structured cable services in Madrid, and optic fiber cabling in all Spain for more than fifteen years.  Our infrastructure design and installation specialists give the project a perfect combination of modern technology and professional ethics to achieve the perfect finish for certified network cabling.
We are a Madrid company, certified for network cabling by different manufacturers. We are fully insured and we work with a diversity of manufacturers. There is no such thing as a job too small or a job too big for us.  Whether you need to wire one workplace or thousands, we will work efficiently with the requested specifications and within budget. A high-quality service, as well as quality material and components are part of our commitment to you, our client. This is the unwavering formula which has propelled our growth and the spread of our reputation in the network wiring industry in Madrid and Spain.
Professional

structured cabling installers in Madrid

Our engineers and structured cable network teams are experts in cabling and network installation projects at all levels.  Specifically, our cabling service and installations capacities include:
Free on-site consultation, followed by a network cabling quote at a fixed price
Network cabling installation categories 5e, 6, 7 and optic fiber
Network cabling and installation
Voice system installation and cabling (telephone)
Wireless networks
Consultancy and project management
Installation and design data centers
Structured cabling certification
Resolution of network emergency cabling problems
Network maintenance
Data Processing Center cable cleaning
Removal of abandoned cables
Electronic networking of main market brands
Server booth (racks) installation and links with cabling and communication booths (racks)
Cabling booths
Material and network electronics supply
Cabling trays installation and supply for racks

Cabling management systems
Custom-built IT cabling installation: Structured cabling

Whether you need to need to install a network node or install a new data center, allow our certified engineers to design an advanced network infrastructure which allows your company to work with maximum efficiency.  We design network infrastructure tailored to be the most effective and we choose appropriate systems and hardware.  If you need to clean and organize your cabling, we do that also.
Our approach in everything we do starts with understanding your business and the network installation requirements for today and tomorrow.  Only then do we proceed to provide a network infrastructure solution best for you. With us, everything is about you: our client. We are completely aware of our success in network cabling and optic fiber installation.  Our success is based in your satisfaction and we always work hard to offer a quality service with an appropriate network cabling budget.