Computer Maintenance Madrid
Comprehensive Computer Maintenance for your company in Madrid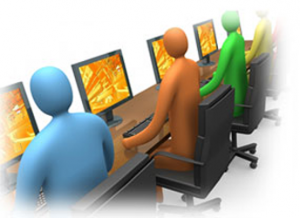 Impulse Technology's computer services and maintenance guarantee the continued functioning of your systems.  We are professionals in Computer Maintenance Madrid and we will help you keep your systems available and trustworthy with preventative computer maintenance. Impulso Tecnológico provides administration services for IT systems and maintenance needs for companies. Specialized computer technicians will provide maintenance for your computers, servers and systems to assure they continue to function, to minimize idle time and to maximize productivity. We end computer problems quickly, either with remote IT support or on-site. Your systems will stay protected, secure and available whenever you most need them, ensuring that your employees remain productive.
We are committed to the results you can wish for as an excellent IT computer maintenance Madrid, which is why we offer different Service Level Agreements.
Impulso Tecnológico wants to become your external IT department or even supplement the IT services you have with occasional interventions.  We adapt our computer maintenance service in Madrid to satisfy short-term and long-term business objectives, whether you need sporadic remote support or you need a computer technician to outsource on site.
Different Types of Computer Maintenance for Different Companies
Q: I don't know which type of computer maintenance contract my company is interested in.
A: Depending on the number of pcs your company has and the complexity of the IT environment, the maintenance needed will depend greatly on the technical level of the users, the necessary response time, the available budget, and the difficulties which appear in your company´s IT environment.  Impulso Tecnológico will advise you to see what your best maintenance option is.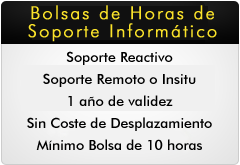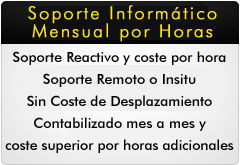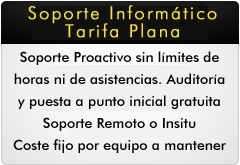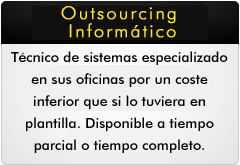 Ideal Companies for Model IT Maintenance
Our IT maintenance service for companies in Madrid is aimed at small and mid-size companies (SMEs) of between 3 and 150 pcs or users, with or without their own IT staff.  We take charge of completing your system (IT staff from the company) or providing some of our available support options so that the IT systems are in perfect condition and don't cause surprises.
How is IT maintenance support provided in Madrid?
General Conditions for IT Maintenance in Madrid
Initial, complete and real audit of the systems relevant to smooth performance: including antivirus, back-up copies and the state of servers and communication
Inventory  of computers to be maintained
Unlimited remote support through our remote maintenance system
On-site support in less than 4 hours after registering the breakdown in the server and in less than 8 business hours for the rest of the computers.
Unlimited technical support hours for the computers to be maintained.
Every time we assist, we revise the rest of the system to prevent further damage and unnecessary costs.
Detailed reports regarding the solution or reparation.
Permanent consultancy, to clarify any doubts or technical questions you have.

Setting adaption according to Impulse Technology's safety criteria, the market's standards and the client's requirements
What is included in the IT computer maintenance Madrid?
The computers and their components or anything the client specifies in the contract.
Security software configuration for operating system
Installation and configuration of security against viruses, back-up copies, network administration, access settings for internet and email.

Unlimited number of support hours
Ask us for a quote for the IT computer maintenance Madrid of your company
Free non-binding maintenance quote
The IT maintenance quote you have requested is non-binding. When we visit your company we can offer an IT audit to determine the optimal status of your IT systems. Depending on your needs, we can create a personalized plan and also give you some recommendations.