Jaen Computer Support
Comprehensive computer support for your business in Jaen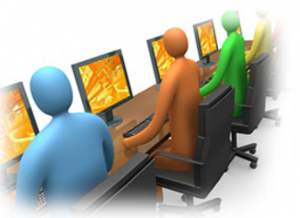 Impulso Tecnológico computer services and its Jaen computer support services ensure the continued operation of your systems. We are professionals in the IT support in Jaen and help you keep your systems available and reliable through a proactive computer maintenance service. Impulso Tecnológico provides a tailored computer support package to suit the needs of your business. Specialized computer technicians will provide maintenance to your computers, servers and systems to keep them running, to minimize downtime and maximize productivity. We tackle the computer problems quickly, with remote or onsite tech support. Your systems will remain safe, secure and available when you need them most, so your employees stay productive.
We commit to the results you can demmand for a good computer support service in Jaen, for which we provide various Service Level Agreements (SLAs).
Impulso Tecnológico wants to become your external IT department or supplement your existing IT services whenever needed. We tailor our Jaen computer support service to meet your business objectives in the short and long term, whether you need occasional remote support or you need a full-time onsite computer engineer.
Different types of Jaen computer support packages for different businesses
Q: I don't know what computer support package I need for my business.
A: Depending on the number of computers you have in your company and the complexity of the computing environment, the computer support package that is needed will depend largely on the technical level of the users, the response time required, the budget available and the current computer problems that your systems may present. Impulso Tecnológico will advise you to see what computer support package will be the most interesting in your case.
Jaen Computer Support Packages for service:
Fixed Price All Inclusive:

Flat rate proactive computer support
Unlimited remote or onsite hours
Free computer and systems audit
Audit Report
Under 8 hour SLA for most requests
Under 4 hour SLA servers and urgent issues affecting the whole business
Price will depend on number of devices (computers, servers, NAS, printers to maintain)

Hourly Packages

Minimum purchase 10-hour-packages
Purchased hours don't expire
Reactive computer support package
Minimum consumption per call: 1/2 hour for remote service, 1 hour per onsite visit, accounted in 1/2 hour slots

Computer Support Outsourcing:

Systems kept running allowing focus on core business functions
Increased business efficiency by aligning IT to business requirements
Reduced business risk by investing in service not technologies
Access to expertise and the advantage of the latest technologies
Resolvement of recruitment and retention problems
Reduced operating costs – typically up to 30%
Fixed service level agreements to core services, ensuring system – and business uptime for business financial certainty with predictable and fixed monthly costs removing the traditional spiked IT capital expenditure
The flexibility and scalability needed to survive in the challenging market conditions today and those of the future
Business types that use our Jaen computer support
Our computer support services is used by many different companies in Jaen, aimed at small and medium enterprises (SMEs) from 3 to 150 computers or users, with or without their own IT staff. We can supplement your IT team or be a fully outsourced computer support provider.
How is the flat rate computer service performed?
General conditions of the Jaen computer support all inclusive service
Initial audit, complete and current status of all relevant systems: including antivirus, backup, desktops, servers and communications
Computer inventory of systems to be maintained
Unlimited remote tech support
4 hours SLA for onsite support whenever a general fault is found or problems with the server, 8 working hours for the rest of tech support requests
Unlimited number of support tech calls for included systems
With every tech request, proactive review of the system to prevent further damage or unnecessary costs
Detailed reports of resolution of each service or repair
Ongoing advice, to solve any technical questions or issues you may need
Adaptation of security environment according to Impulso Tecnológico IT criteria, industry standards and customer computer support requirements
What's included in the Jaen Computer Support?
The user's computer together with any peripheral or components within it or attached to it, or those that the client determines upon the support contract signature
Operating System Security Configuration
Installing and configuring security software, backup systems, network management, Internet and email access permissions
Unlimited computer support hours
Request a quote for the Jaen computer support for your business
Free estimates for your computer maintenance
The IT maintenance quote you have requested is non-binding. When we visit your company we can offer an IT audit to determine the optimal status of your IT systems. Depending on your needs, we can create a personalized plan and also give you some recommendations.